TheaterWeek Cover Story
June 12, 1995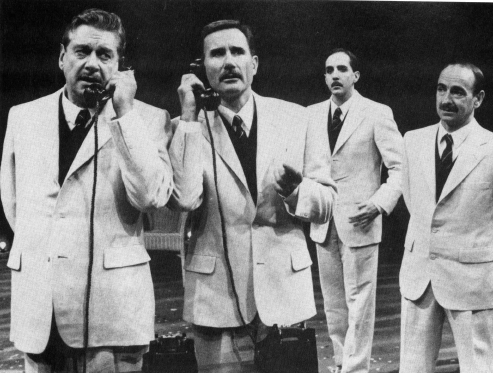 Photo by T. Charles Erickson
Excerpts from
Masters of Transformation
The Cast of Travels With My Aunt
By Michael Buckley
A quartet comprised of two veteran actors, Jim Dale and Brian Murray, and two who are making their New York debuts, Martin Rayner and Tom Beckett, portrays a total of 22 characters. And they do it sans changes in costumes and makeup.
Each of them plays Henry Pulling, a retired British bank manager. Dale offers only one other character: Augusta Bertram, Henry's high-spirited septuagenarian aunt--switching gestures and voices with precision timing. And the false mustache he wears as Henry does not interfere in the least with his transformations to Aunt Augusta.
At his mother's funeral, Henry meets Augusta, who informs him that the deceased was not really his mother. A few exchanges later finds the pair off on a journey that takes them to Brighton, Istanbul, Paris, Argentina, and Paraguay. Encountered en route are a colorful variety of types on both sides of the law.
Murray essays eight additional roles, half of whom are women. Rayner's also seen as eight other characters, including two females. And Beckett (who's standby for Dale) assumes four more guises, most notably a dog named Wolf.
Tom Beckett
Most of the critical attention received by Tom Beckett in Travels has centered on his portrayal of a canine. He is, stated John Simon, "especially unforgettable as Wolf, a dog whose pranks and demise he--no lesser word will do--immortalizes." Laughs the actor, "You must be immortal, if you die every night."
In Long Wharf, Beckett says, "the dog was not as rambunctious. We were all out having an after dinner drink one night, and I asked Giles [Havergal] if he had any suggestions. And he said, 'I wish that Wolf were not so polite.' I thought: 'All right, if he wants an impolite doggie, I can give him one.'" Of his roles, Beckett's favorite is, "Of course, Wolf. Because of the great response it gets." And, he adds, "I'm also very fond of the dance at the end of the show. Not only because it's lovely to have that little moment onstage, but--at that point--I feel like all the Henrys have loosened up a little bit. Privately, I'm really very fond of the dance; and, publicly, I'm really fond of Wolf."
He's also standby for Jim Dale, but Beckett insists, "Jim doesn't miss performances. I'm hoping he doesn't. It's not an enviable position to be behind Jim Dale, but it's been a great opportunity to watch him, and try to figure out how he does things. I can do that with all three of these actors. They're all stupendous, and I can learn from all of them. One of the reasons I don't see myself getting bored is that not only do I love the play so much, but also because I love watching them and seeing how they work. I have a lot of time when I just get to watch--and thank God I have fascinating stuff to watch."
Asked if he had any difficulty with his roles, Beckett answers, "Just with the blocking. One set and three thousand props. In and out of the characters I do, I move most of the props. They all start to look exactly alike after a while. I'll be upstage and looking at trays I'm supposed to move or chairs, and I think: 'They could go anywhere .' That was the most difficult thing--getting the physical script down. I have dropped things on occasion."
The character of Henry, Beckett says, "takes a very strong emotional journey in the play. All four of us play him at different times, so we don't all take the entire journey. It's like a quartet of musicians. You have to play the entire piece, but you're coming in for your notes."
Elated to be making his New York debut in a success, his friends, he says, "tell me that I'm going to have to be in about fifteen flops to make up for this. [Laughs] I say it doesn't have to be that many."
Out of Yale for three years, Beckett has been "bouncing around in different regional theaters." He's enjoyed "Taming of the Shrew at Westport Country Playhouse and a wonderful Twelfth Night at Indiana Rep." His favorite work, thus far, "was Three Men on a Horse at the George Street Playhouse. It's wild comedy; the sort of thing Jim [Dale] does so well."
Born in California, he has a younger brother. "I grew up in California, but New York really feels like my home now." He was a "star boy soprano" in San Clemente, but when his voice changed, he decided on an acting career. "In sixth grade, I did The Happy Time. I had terrible asthma, but as soon as I got onstage, everything would cease to give me trouble. You get huge amounts of adrenalin in your body, which basically clears everything out of you."
His family name is Ericson, "but there was already an Ericson [in Equity]. I've always been fond of Becket, Thomas a Becket, yes, indeed. I left out the 'a'"
Asked what he'd like to be doing in five years, Tom Beckett says, "I'd like to go on to Airedales and St. Bernards. [Laughs] Ideally, I'd like to keep doing theater in New York, especially anything with a comic tinge. And, of course, maybe two movies a year, so I can support myself. There was a time when you could support yourself in the theater, but not anymore."
Home